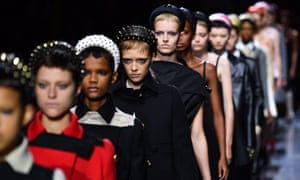 There aren't many school-uniform items that graduate into adult wardrobes, but this season the humble headband has made the grade. Long associated with boarding schools and Sloane rangers, the one-piece accessory is in the midst of a renaissance thanks to several influential brands and style icons proving that the headband is more than a device to keep your hair off your face.
It was in September at the Prada spring/summer 2019 fashion show when Miuccia Prada (she who can make or break a trend) sent every single one of her 50 models down the catwalk wearing thick studded and satin styles and must-have status was bestowed. Over fashion week last month, stylists and influencers – including Pernille Teisbaek, Veronika Heibrunner and Tamu McPherson – were all spotted wearing theirs, while the Aladdin actor Naomi Scott can be found wearing an orange style from the collection on the April cover of British Vogue this month.
"Once you've seen something on the Prada catwalk, you just know it's confirmation," says Miss Vogue editor and long-term fan Naomi Pike, who used to buy hers from "Pak's in Dalston, or seek them out from fabulous little shops on holiday in Italy," before they were so readily available as they are this season. Pike predicts that it's a trend that "young people won't entirely engage with as its so closely linked to childhood … when nostalgia hasn't hit yet because you've only just stopped wearing them". By the same token, she says, it's a trend women in their late 20s, 30s and 40s "can own is because enough time has passed".