This is the third article by Lorraine on her visit to LA.
During my recent holiday in Los Angeles with fellow 40plus style follower Rita (see article here), it was a given that we would go shopping!
As well as looking forward to visiting American retail shops I had read about, I was keen to take a look at the 'thrifting' scene. This was partly out of curiosity, partly because I do buy second-hand in the UK and partly the desire to pick up a bargain. Although Rita is not a thrifter herself, she proved to be a great shopping companion and together we secured some great purchases!
The difference of thrift and consignment shopping between the UK and USA
In the UK we have many charity shops on our high streets, ranging from chains for the major charities such as Oxfam or Cancer Research, to other shops devoted to raising funds for local causes. Most are small. In recent years the charity shops have smartened up their image and are no longer the places usually associated with bad smells and dowdy items.
We also have dress agencies, which offer 40 or 50% of the price they secure for your unwanted clothes. They tend to be small and run by individuals and there are usually restrictions as to the age, condition and season of the garment.
Charity shops equate to the US thrift stores and our dress agencies more loosely to consignment stores.
Where to go for thrift and consignment shopping in LA
Rita suggested shopping in Santa Monica, up the coast from LA, and we researched thrift and consignment stores there. On our first visit, and after a leisurely lunch at True Food, we went to Wasteland, where I tried on two beautiful designer dresses, both new and both considerably reduced, although still more than I wanted to pay.
Not wanting to spend a lot in the first shop we visited, we continued to one of the branches of Goodwill, a well-known chain of thrift shops, where we discovered that the better labels were tucked away upstairs. Not far away was Crossroads Trading, a consignment store, with a huge selection of covetable items. It was a shop that I would revisit at the end of our holiday, as Rita had a theory that the buyer shared my taste!
My top shopping tips for LA
Sizes: Be open minded and try items on. I was unfamiliar with US sizing and unsure of my size, having recently lost weight, so just picked out what I liked to try on. As you see I ended up with a range of sizes. Even in the same store sizes vary.
Petite: If you are borderline petite (usually 5'3" and under) it's worth trying petite lines on; going up a size often works.
Labels: When thrifting it helps to know your labels as it gives you have an idea of the retail value of an item.
Inspect: Check seams and hems, buttons and zips, and look for marks.
Use the opportunity to try styles you wouldn't normally wear. You may be pleasantly surprised.
Sometimes the better labels are in a separate area eg Goodwill
Fabrics: I always check the fabric of an item as I prefer natural ones. In addition, interesting texture appeal to me.
Don't buy the first things you see, although if there is only one it's tempting.
Don't buy something you won't wear because it seems a bargain!
Here is what I bought in LA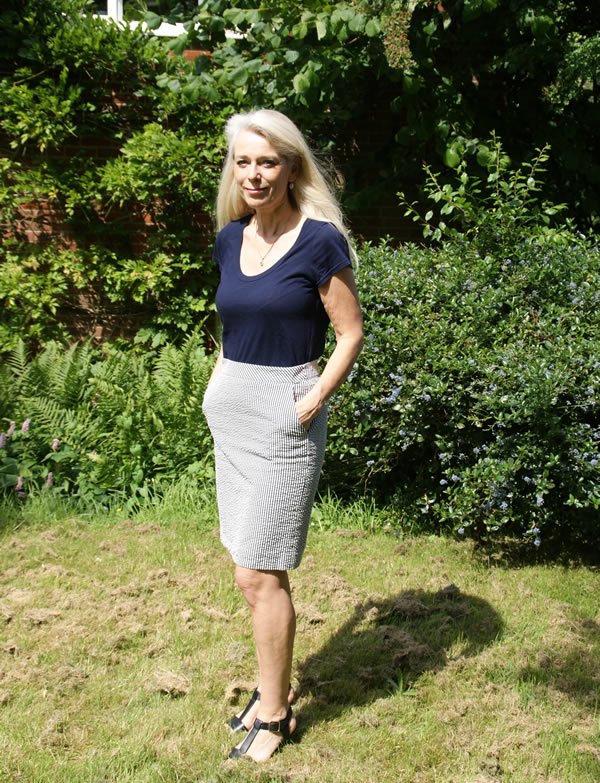 J Crew, navy and white seersucker, lined skirt: I love navy and white and this lined, 100% cotton seersucker skirt by J Crew is the perfect summer skirt – and it has pockets! What's not to love? From Crossroads Trading, size 4 and just $16.50. Worn for a casual afternoon with a girlfriend.
Ann Taylor, cream cotton textured, lined skirt: I was looking for a cream skirt and loved the textured, lined, 100% cotton one I found at Ann Taylor, in the sale (with a further 30 per cent off). It was a 6 petite, therefore slightly shorter than I would normally choose, but Rita assured me the length was fine. Price $34.32.
Ann Taylor, black and white, lined skirt: Although not my favourite colour combination, black and white is timeless and this graphic patterned, lined Ann Taylor Loft skirt from Goodwill was brand new, with the tags still attached. The fabric is 54 per cent silk and 46 per cent cotton. From the petite range, it is slightly too short, but because it's also too big (size 8) it hangs lower on the hips, falling to the length I like. A bargain at $9.99 (retail price $59)! I also picked up some sunglasses for $4.99.
Calvin Klein, cobalt blue lace skirt: The beautiful colour and textured 100 per cent cotton lace of this lined skirt caught my eye and it was a perfect fit. By Calvin Klein, it was also from Crossroads Trading.
Ann Taylor, coral lace, lined skirt: I also fell in love with a dusky coral lace skirt that was flattering and hung really nicely, also from Ann Taylor's sale. This was a size 4 and originally retailed at $69.99, reduced to $38.14. I was invited to a tea party and wore this with a cropped white cardigan and was told I looked very 'ladylike'!
Banana Republic, black and white striped lined dress: This sleeveless dress is in a beautiful textured black and white striped 'Italian Fabric', 99 per cent cotton, with a scoop neck and pockets by Banana Republic. A size 4 petite, it was also from Crossroads Trading and $16.50. A post wedding lunchtime celebration was the perfect excuse to wear this.
Vince Camuto, coral lace lined dress: I was drawn to this dress, which was hanging on the wall at Crossroads Trading, because of the pink lace and orange lining that made it look coral, my favourite colour. By Vince Camuto, it was a perfect fit (size 8), length and price – $25!
Spotlight by Warehouse, blue and cream dress: The pretty china blue and cream design of this prom dress caught my eye, as well as the thick 100 per cent cotton fabric. With its full skirt and netting petticoat, I was unsure if the style suited me, as it was not what I would normally choose. However, it appealed to my girly nature and Rita loved it! By Warehouse, a UK label that I like, it was from their Spotlight range and a UK 10. Again from Crossroads Trading the price was $18.50. I wore this for a 75th birthday garden party and received lots of compliments.
J Crew, white cotton cowl neck blouse: Rita was keen for me to buy a top and while still in Crossroads Trading I picked out a darling J Crew white cotton blouse with an interesting fabric and neckline, and exposed back zip. A size 6, it was mine for $15. Worn with cornflower blue skinny jeans for a recent daytime drink, I felt chic and neat!
Earrings: These quartz and gold earrings were from YaYa's, a small jewellery store and boutique in El Segundo. It stocks unique pieces from local designers at affordable prices. After two visits and several hours I came away with a beautiful pair of earrings. A lovely souvenir of my trip! These have already become favourite items