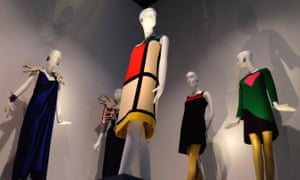 The first exhibition in the UK on the fashion designer Yves Saint Laurent has become the most successful in the 100-year history of the Bowes Museum in County Durham, and is being extended until 8 November.
The museum, created as a 17th-century-style French chateau in the improbable setting of Barnard Castle, has a renowned costume collection and was chosen by the designer's estate as the only UK site for the exhibition Yves Saint Laurent: Style is Eternal.
Saint Laurent was born in 1936 in Algeria and died in 2008 in Paris, his adopted city where he created one of the most famous haute couture houses in the world.
His work included designs for theatre, ballet and cinema, and was shown in museums including the Metropolitan in New York.
The Bowes exhibition is expected to have been seen by more than 70,000 people. Visitor numbers and sales in the shop have tripled over the last three months.