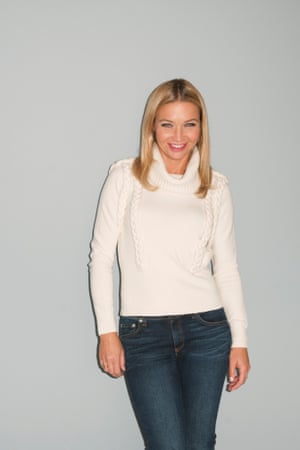 Here's a timely Halloween fashion tip: wear a sweater with a high enough polo neck to hide behind when Craig Revel Horwood gets really scary on Strictly. It's a bit of a trick-or-treat cop-out, but a wiser investment than a zombie Minion mask, as it's a statement sweater and so officially an autumn look.
When the statement sweater emerged as a trend a couple of years ago, it was either a normal sweatshirt with something written in French on it, or a normal jumper in a slightly weird colour. So you could wear it in the normal jumper way, over a shirt or under a coat. Then it became all about texture: waffle, sponge, mohair. This winter, it has gone full-on, wear-your-cinema-specs three-dimensional.
Obviously, any jumper is three-dimensional when it's on, but that's in a common or garden, lump-of-flesh kind of a way. This season's alpha jumper is not just there to hug your boobs or tummy. It has sculptural curves or sweeping architectural planes all of its own. The old-school jumper was there to keep you warm, but the new generation is not content with a backroom role. For example, no offence, but your neck looks about normal length, right? Well, the new-era polo necks, as seen at Stella McCartney, say, have necks much, much longer than that. They have necks of swan-like proportions, necks that are much more fabulous than your boring stumpy neck, necks that rise up in front of your face so no one can hear you speak. But that's fine, because it's a statement sweater, so that's the talking taken care of.
At Victoria Beckham, the sleeves of this season's sweaters balloon above the elbow in a way that makes me worry they would be uncomfy under a coat, but that's just the kind of beta person I am. At Alexander McQueen, a cosy cable knit has cut-outs at the shoulder that look brilliant but disregard the basic principles of insulation. If you can't pick up your tea, let alone drink it, if you're overheating in some places and chilly in others, congratulations: your sweater is awesome. It's a statement sweater world, and we just live in it.