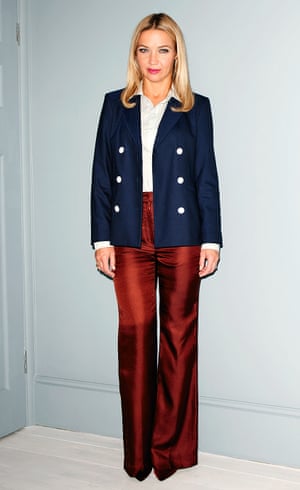 Ever noticed how in each decade the fashion clock seems to stop at a certain time of day? In 1950s fashion, it will always be 4pm, in a dress to be worn under an apron as the cakes are brought triumphantly to the tea table. If one is channelling 40s retro, it must be rush hour, to be navigated in a smartly tailored suit as you walk purposefully and vaguely poignantly across a station concourse. Seventies fashion is frozen around midnight, the glare of flash bouncing off shiny fabric and skin with a post-dancefloor glow.
Which is tricky, because we are well into autumn and the 70s are not so much back as still back, having dominated the summer as well. And with the best will in the world, there is a limit to how many real-life looks you can make from a Studio 54 mood board. Even when you look beyond the late-night 70s, what comes to mind are jeans and sun-faded cotton T-shirts, which doesn't help, what with your late-October diary not being jam-packed with picnics and/or folk festivals.
In fact, my understanding of how to dress 70s-style to go to work is based onCharlie perfume adverts. The ones where a woman with gravity-defying rollered curls is doing that one-small-step-for-mankind leap across an imaginary puddle. It's not a scenario I identify with, but at least she's fully dressed and not stoned. In one, she wears a belted jumpsuit and loafers, which is a top-notch this-season-as-seen-at-the-shows look. There's another with a trouser suit and a pussy bow blouse which is way new-era Gucci. And one with Lauren Hutton wearing wide trousers, which is awesome. True, there's one where she is wearing knickerbockers. When you look closely, in fact, she looks a bit stoned in that.
Anyway. This is what we have, for 70s daytime dressing: wide trousers given sharpness by a heel, a jacket and a blouse. You have this stuff in your wardrobe: these are the wide trousers you were wearing puddling over white trainers a year or two ago. All you need – and I'm afraid here I can't help you, more's the pity – is that gorgeous, bouncy big hair.