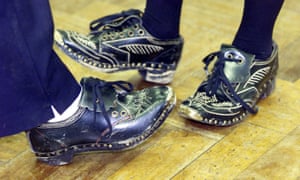 It is curious to learn that there is actually a Clog Publicity Association in existence, and that it was meeting yesterday in Manchester. One would have thought that clogs supplied their own publicity by the clatter which they create – at least they did for the probably fabulous American visitor who inquired, when informed that the noise outside his bedroom window in early morning was caused by the cotton operatives on their way to the mill, "What, do they go to work on horseback?"
But if clogs require publicity of the more cultivated kind clogs are evidently receiving it, for it was explained at yesterday's meeting that an effort had been made to present the Prince of Wales with a pair of them. On behalf of the Association it had been written to suggest that the Prince would find that form of shoe extremely useful on the farm which he has bought in Nottinghamshire, and to explain that the Association would be very glad to present him with a special pair of clogs for that purpose.
Unfortunately the Prince's secretary wrote to say that the offer must be declined, as he would be overwhelmed with such gifts if it were known that a present of that kind had been accepted. But it would certainly, as the chairman of yesterday's gathering suggested, "have brought clogs much before the public" if only the scheme had succeeded. The Prince of Wales in clogs would have been worth the attention of every paper in the land, with the result that they might have become fashionable wear quite apart from farms.
The Prince's habit of carrying an umbrella is said to have greatly encouraged the manufacturers of that now almost in dispensable article; with a little push from royalty the clog might have been accepted as the ideal shoe for an English summer. It has many merits over a poor-class boot, the chief of which is that it is certainly watertight. But fashion has turned against it even in the Lancashire towns which were once its stronghold; the boot and shoe gain ground at the expense of the clog. Yet no better footwear has ever been devised for those who have to be much on their feet in wet places.