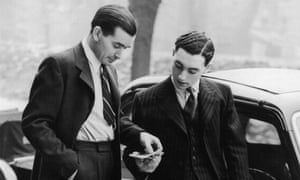 To prove it, five young actors, students of the Paris Conservatoire, walked to and fro under the arc-lights displaying the clothes which M. Waltener decrees the well-dressed man must wear this autumn and winter.
So that the male mannequins should not feel quite so embarrassed at this first appearance, each was accompanied by a professional girl mannequin. The plan was not quite successful, however. Self-conscious, the boys clung to the arms of their partners and avoided the gaze of the predominantly feminine audience, and while the girls carried out their professional turns and poses, the men preferred to stand aside and leave their partners in the limelight.
Tails unaltered
In the evening clothes displayed, the classic cut of tails remained unaltered, but there was greater variety in the dinner wear. "The object," M. Waltener declared, "is to combine celebration with ceremony." To illustrate his dictum, he showed a light grey double-breasted dinner jacket, soft shirts with turned-down collar, with black dress trousers, and a dinner-suit in midnight blue with loose-fitting jacket.
French tailors who watched the display laid down that to the well-dressed man these "idiosyncrasies" were permissible – grey flannels and quiet, well-cut sports jacket on any occasion where a lounge suit is also correct: no hat, a light-coloured suit in winter, a fancy waistcoat.
But the following, if they were ever admissible, are so no longer, the tailors said: sloping or built-up "Tarzan" shoulders, over-long jackets, over-long trousers, cowboy shirts, long hair, or beard.
Men's clothing to be scarcer. More to be exported.
Higher prices and a scarcity in most branches of men's wear were foreshadowed in London yesterday by Lord Hollenden, president of the Wholesale Textile Association, at the conference of the association and the National Association of Outfitters.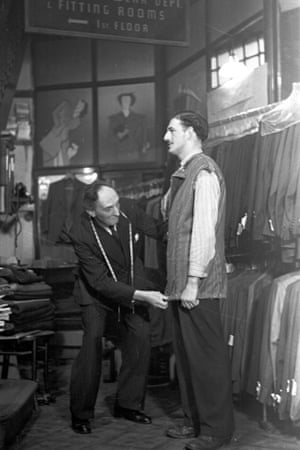 Prices of raw materials, he said, had started to climb. In September cotton cost 10 per cent more than in August, wool 2 per cent, and silk 27 per cent more. "Since devaluation, this rise has been greatly accelerated, and costs are leaping," he continued. "We have to import these products largely from the hard currency countries – our utility programme could not carry on without the raw wool and cotton."
The hard currency countries, he said, could now buy raw materials in the sterling area 30 per cent cheaper than Britain could, but when Britain bought raw materials in the dollar countries the price was more than 40 per cent higher than it was before devaluation. At the same time exports had to be increased. Figures varied on the extent of the increase, but it was obvious it must be large if Britain was to earn the required quantity of dollars at the new rates. Supplies were going to be scarce at home, particularly of shirts, pyjamas, socks, knitwear, and most items of men's clothing.