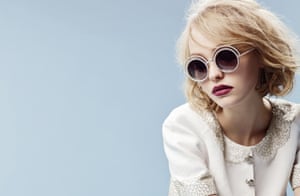 Lily-Rose Depp has practically been brought up in Chanel finishing school – her mother, Vanessa Paradis, has been an ambassador for the brand since 1990, and she has already worn tweed skirt-suits to two Chanel shows. Now, inevitably, the 16-year-old has become an official ambassador for the brand.
Karl Lagerfeld has a knack of finding cool, young stars who are bound to set tills ringing (see the Chanelification of Lily Allen), and Depp is the most talked-about rising star in fashion right now, so this is a savvy, commercial move. It also makes sense to court the youth vote with this campaign, for the brand's Pearl eyewear collection. Pearls are very Chanel indeed; sunglasses are at the vaguely affordable end of the fashion house's spectrum.
The appointment does nothing to reassure those who think a 16-year old is too young for a gig this big, however. The press releases says Depp plays a "baby-doll" in the campaign, "in a world imbued with sweetness and femininity". Nor will those who lament the fetishisation of celebrities' children – as a replacement for their "decrepit" mothers – find much to celebrate. As for Lagerfeld? He says: "Lily-Rose is stunning, she's a young girl from a new generation with all the qualities of a star." In other words, this is the sort of controversy he seems to enjoy.