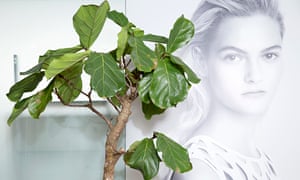 There are small but crucial differences between fashion and the real world. Here's one: in fashion, flowers for the kitchen table are not something that you buy on impulse from the stall by the station as an it's-Friday treat. They are as much of a style statement – and as trend-driven – as your handbag, or your shoes, or the car you drive, or the restaurant you book for your birthday party. They must be carefully considered and finely calibrated to enhance your personal brand.
The coolest trend in flowers over the past few years hasn't, confusingly, involved flowers at all. Greenery is what greets you when you walk into Céline's Mount Street store. The vogue for palm leaves can be traced back to Céline's ad campaign for autumn/winter 2011; their cult status was confirmed in 2012 when House of Hackney launched its now-classic Palmeral print. A cheeseplant or succulent on your mid-century sideboard is pure minimalist cool, the lack of pretty petals chiming nicely with your on-trend androgynous wardrobe.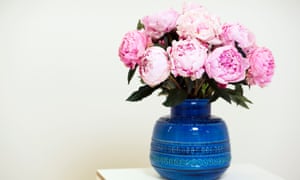 The next big thing, for those already tired of succulents, is a polar opposite trend. Highly stylised arrangements in dramatic, downward-sweeping shapes are the avant garde choice. Your inspiration here is 16th-century Dutch still life paintings, so go for a mix of overblown blooms, bending to the table in melancholy glory. A prop – a shell, a silk butterfly, a bell jar, an earthenware jug – completes the picture.
This look is, granted, a little tricky to put together if you are sourcing your flowers in Marks & Spencer rather than the fashion industry's favourite florist, Scarlet & Violet. If in doubt, fall back on the classics. A white phalaenopsis orchid is the little black dress of flowers, and all-white blooms are a failsafe chic choice. (Anna Wintour's favourite is the scented white tuberose, fashion fact fans.) Pink peonies or blue hydrangeas are super stylish, so long as the bunch is generous enough and you stick to a single colour, with no greenery. Wild meadow flowers project effortless style, the floral equivalent of wearing a ponytail and flats on the red carpet.
What to put them in? (And, no, I don't mean water.) Glass tanks are on the way out, superseded by milk bottles and bright pottery. You wouldn't put on a great dress without putting a little thought into what shoes to wear, would you? Well, the same goes for flowers. As every fashionista knows, great accessories make the look.