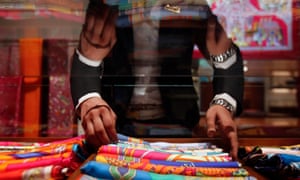 The luxury goods maker Hermès has reported a 20% rise in operating income to €748m for the for the first half of 2015, despite its heavy reliance on the slowing economy of China.
The French group, which has a number of stores in the UK selling its Kelly bags and silk scarves, said on Friday that sales in Japan rose 20% in the period, while inEurope they increased 7%.
Earlier this month, Hermès was included by the US bank Citi in a list of 48 large companies with high exposure to the slowing Chinese economy. Citi estimated that between 20-25% of the company's revenues came from China.
Although the latest results fall too early to take into account the latest gyrations in China's stock market, they incorporate a period during which the country's economy has been slowing down. Hermès says sales in Asia excluding Japan grew by 7% in the first half of the year, "despite the difficult context in Hong Kong and Macau".
Hermès described the 14% growth in its leather goods and saddlery division as "remarkable". Sales of its watches, however, were down 1%. The group recently launched its latest model, Slim d'Hermès, which it says received a warm welcome at the Basel trade fair.
Shares in the Paris-listed group were down 1.5% at €317 on Friday, as it warned that its operating margin for the full year would be lower than in 2014 owing to currency fluctuations.
The London-listed luxury shoe maker Jimmy Choo reported more modest revenue growth of 6.5% in the first half of the year, against what it called a challenging and uncertain backdrop.
Jimmy Choo said on Friday that sales benefited from its growing exposure to Asia and that it expected to start seeing the impact of a shop renovation and a new store opening plan come through in the second half of the year. Its shares opened slightly up at 166p, comfortably up on last October's flotation price of 140p.