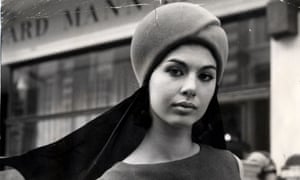 This is a shocking season for hats – the worst within living memory. One had felt forebodings at the millinery collections earlier this autumn, but the full horror struck yesterday at the opening of London Fashion Week.
Mrs Reginald Maudling, wife of the Chancellor of the Exchequer, opened the combined presentation by the 28 members of the Fashion House Group of London – and she charmed in spite of, rather than because of, her hat.
It had been specially designed for her by the maestro of wholesale milliners, Otto Lucas, and was an amorphous hat in the abstract idiom, a hat that could do nothing for nobody. Mrs Maudling is to be congratulated on having done something for the hat. As regards other hats in the audience, it is best to keep silence.In the fashion show itself, the chimney-cowls of James Wedge, designed to go with Stretlitz's elegant dress and jacket ensembles, may be mentioned as having an inspired lunacy almost akin to genius.
The years will enfold these hats: only in old albums of press-cuttings will they live to supply future fashion historians with food for facetiousness. The clothes themselves made less impact than usual and, with some exceptions, were disappointing.
The most notable exceptions were the Reldan-Digby Morton casuals on a beige theme; the Sylvia Mills pastel suits in nobbly wool with silk shantung blouses; the Brenner group of town clothes in navy blue; and white woollen cloth by Galloway Reels.
Frederick Starke's "Limited Editions" collection of dress and jacket ensembles in palest pastel toile rustique were outstanding, as was his group of inexpensive resort dresses in Gaugin print cotton.
Fashion casts its sunshine before it, and the clothes shown in this November presentation are for spring and summer, 1964. The 38 overseas buyers – 20 percent more than at the last London Fashion Week – are expected to place orders approaching the group's export target of £2 millions.