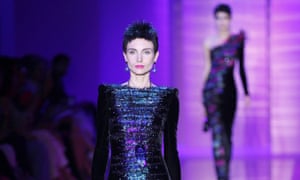 Consider the Cannes ban on flats on the red carpet well and truly overruled. Giorgio Armani, master of red-carpet dressing, showed nothing else with his latest collection of evening wear. At Privé, the exclusive collection that Armani shows at Paris haute couture week, pointed and polished delicate flat mules were worn with velvet trousers, and luxe velvet smoking-room slippers with ball gowns.
The heels were the only down to earth thing about the show. This was power dressing for evening: show-stopping fabrications, striking silhouettes and bold colour. Styled with oversized neon earrings and short, spiky black wigs, it was hard-edged and striking rather than soft-focus princess pretty. Which is what this house does best. Don't be fooled by the deconstructed tailoring: Armani is boss-dressing, at heart.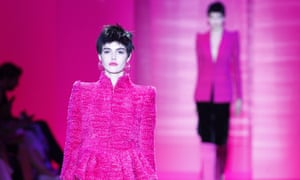 The title of the show was "Shocking", and Schiaparelli's trademark shade of pink dominated the opening looks. One fucshia jacket, with sharp shoulders into a peplum and woven from chenille and Lurex thread, resembled a fireball; another, light as air in pink feathers, a pink cloud. For added impact, both were paired with simple black trousers.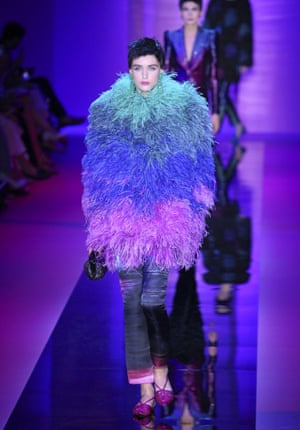 And then, as if by a trick of the light, the shocking pink was fractured into a degrade rainbow of magenta, lilac, turquoise and rose which shimmered across every conceivable option of glamorous eveningwear – from a multicoloured feather coat, to a blazer with shaggy silk fringing, to a printed silk organza ballgown.
There is only one place for a master designer to go from there, and that is back to black. The final looks, one in velvet with long fitted sleeves and a deeply scooped back, one with a low neckline framed by glittering dark crystals, were a masterclass in glamour. No stilettos required.