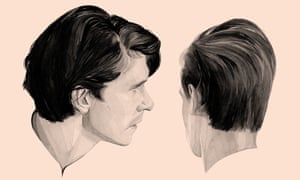 Sometimes if I'm having a bad day, I Google Image River Phoenix and study his hair. It's like therapy and momentarily sends my brain somewhere better. This obsession is partly to do with the film My Own Private Idaho and its beautiful portrayal of youthful confusion and unrequited love. But it is also because Phoenix's hair was at its absolute peak of amazing. Big and beautifully dishevelled, in many ways it was the embodiment of his character. Essentially, hair mis-en-scene.
Over the years, it is not just River's up-top tangle that has reeled me in. Hair obsessing stretches from my own, which grows fast and outward, often resembling a giant mushroom. But also to (very) specific catwalks (the Raf Simons wet-look partings from spring/summer 2012 are an all-time high), via a roster of celebrities. This briefly manifested itself as a Tumblr starring the likes of actorsBen Whishaw, Jake Gyllenhaal and Andrew Garfield, the artist Jean-Michel Basquiat and the Strokes singer Julian Casablancas. I even barraged my late boyfriend (himself a man of much hair prowess) to file relevant images in a specifically labelled HAIR folder on my computer desktop.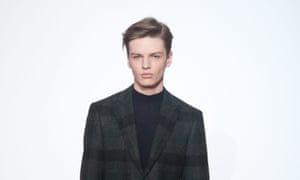 Looking back at my school photos, I'm bowled over by the size of my hair, the lack of product usage and its close proximity to Luke Skywalker's. But then space and science fiction seem to produce excellent hair. Think about the number of good alien/android blonds there have been on screen over the years. Rutger Hauer in Blade Runner, the orangey-blond David Bowie in The Man Who Fell To Earth and, more recently, Michael Fassbender's David in the Alien prequel Prometheus. David even dyes his hair blond, inspired by Peter O'Toole in Lawrence Of Arabia, as part of the narrative.
With lifelong David Hockney and Kurt Cobain style crushes – the Cobain hair at the recent Saint Laurent spring/summer 2016 show sent me into a near frenzy – it's a miracle that I have never truly embraced blond. Particularly as it's having a moment right now: see male model of the hour Lucky Blue Smith, star of the new Tom Ford campaigns. During the recent June menswear shows, erstwhile member of One Direction Zayn Malik, whose hair has always been, as far as I'm concerned, forward thinking, appeared front row at both Valentino and Louis Vuitton sporting a brilliant blond buzz cut.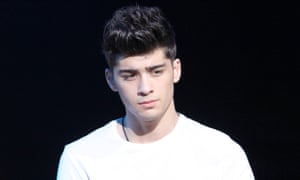 Having been through the gamut of hairdos (and several don'ts, including the time I had Cyndi Lauper-style black and blond streaks painted into the front of a Jarvis Cocker floppy fringe), I now find myself in the position where thankfully my hair is still pretty thick. But with age comes grey, and while I'm not particularly against this development, it is a different texture and one that changes your haircut options. Now, I simply look better (and younger) with shorter hair, which, as the River Phoenix/Idaho reference illustrates, is not my preferred route.
I shaved my head once, thinking I was Renton in Trainspotting minus the heroin problems, and my mum still talks about how it nearly ruined her 50th birthday because I looked like a convict. This style firmly changes your appearance and therefore affects the way your wardrobe works. As a stylist, the casting of a model often begins and ends with their hair. Once I was shooting actor Dominic West for the BBC 2 series The Hour. The night before the shoot – based around elegant tailoring – West decided to shave his head, for fun. Fun for him. Cue frantic hat calling in to counterbalance the severity of his haircut.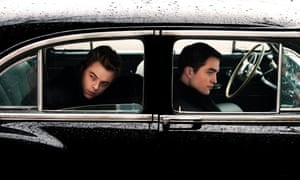 This autumn, cinematic hair inspiration is likely to come from one particular source: the James Dean biopic Life, starring Dane DeHaan and Robert Pattinson. DeHaan plays Dean opposite Pattinson as Dennis Stock, the photographer who famously took the pictures of the actor in Times Square, smoking in the rain. Dean's iconic follicles are legendary, but DeHaan and Pattinson are new-generation hair hall of famers, with mega fashion house campaign form. DeHaan has done a Prada ad campaign; Pattinson a Dior fragrance. This could be full-on hair porn territory. DeHaan's hair could be the natural successor to Leonardo DiCaprio's wondrous Romeo + Juliet mane (notably Prada dressed Leo in that film). But R-Patz's locks cannot be underestimated. His character, Edward Cullen, in the very first Twilight, oozed (supposed) teen angst, thanks to the winning mix of pale skin, piercing eyes, and, yes, big hair.
But by Christmas it's all going to be about Adam Driver, when the actor steps into what I am praying is the suitably brilliantly villainous role of Kylo Ren in the Star Wars reboot The Force Awakens, and thus brings my hair love story full circle. He's certainly got the form. I actually gasped at how perfectly imperfect his hair looked in episode 1, season 2 of Girls. Yes, my name is Simon and I'm a hairaholic.