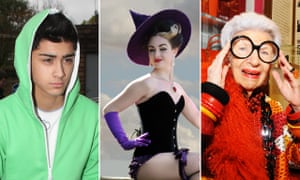 Unless you pricked your finger on a spindle and fell asleep in a tower for the past century, you will have noticed that Halloween is a pretty major deal these days. The days when autumnal party thrills meant catherine wheels and toffee apples are long gone, my friend: fireworks are over and ironic lolz are in. And yes, you do need a costume. And no, that cat-ear headband you've had hanging around since Katy Perry wore one in 2013 will not cut it, because that was 2013 and modern Halloween is all about showing the world that you are up to speed on your internet memes. Essentially, this is where all those lunchtimes spent aimlessly sucking up clickbait pay off. Here are 13 (geddit!) ideas to get you started:
1. The dancing lady emoji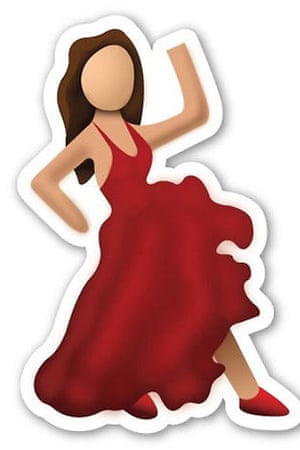 Everyone knows it's all about the nail-painting emoji right now, but good luck with a costume for that one. You could go as the scream emoji, or the ghost with the Miley Cyrus tongue, but if there was an emoji that won 2015 it was, surely, the dancing lady in the red dress. And all you need is a red dress and, like, an iPhone.
2. Netflix & chill
Get a red T-shirt and write NETFLIX on it in a vaguely Graphique-esque font, add a bag of ice from the Spar and you, too, can be the most meta person at the party. Also, you have come to the party dressed as a ready-made hot conversational topic, because everyone has an opinion/anecdote as to whether Netflix & chill really is the new date night. Possibly the only costume that trumps N&C for meta-modernity is to come dressed as a Dead Guy Fawkes in homage to how Halloween killed Bonfire night.
3. Cecil the lion/Walter the dentist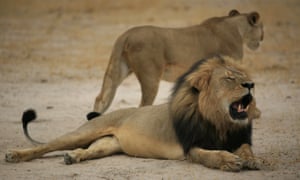 How to be scary and universally loved in the same costume? Easy: Cecil the lion.This year's cause célèbre, and easily achievable with a quick visit to the zoo gift shop for a mask and a fluffy tail. Even better, if you have a frenemy with whom you have a love-hate relationship, get them a white medical tunic, spatter it with fake blood and they can be Walter Palmer, the dentist. Boo, hiss.
4. Zayn Malik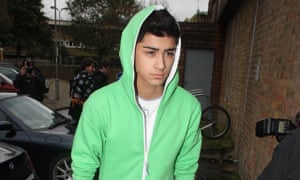 If you don't mind tramping all over a thousand teenage dreams in the name of cheap laughs, then the boy who broke the Directioners' hearts back in March is this year's alpha-male choice. Choose from: immediate post-split dyed green hair; or the ultimate bounceback Paris fashion week look of bleached-blond crop and a Louis Vuitton trophy jacket.
5. Brangelina and brood in the new American Vogue
Parenting can be tough but the moments of payback are worth it. For instance, in return for all the times you had to pick up bits of carrot from under the kitchen table, sometimes they don't finish their spaghetti bolognaise and you get to help out. And then there is Halloween, when, as sweet payback for all those mornings tying shoelaces, you get to dress your kids up for your own amusement. This year, leave the pumpkins and skeletons for dust by dressing up en famille as Angelina, Brad and the Jolie-Pitt brood, as seen in the new issue of American Vogue. You may need to borrow a few kids to get the numbers up – Brangelina have six – but then all you need are a bunch of motorcycle helmets, some grey marl T-shirts, and intergenerational pouting.
6. Donald Trump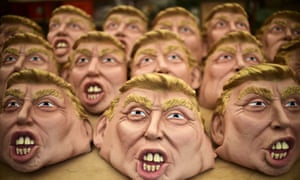 Yes, you could get a blue trousersuit and go as Hillary, but where's the fun in that when you can go as a bona fide modern bogeyman with the most amazingly bad hair in history? Also, not only is Trump's hair a pop-cultural phenomenon, the phenomenon of making fun of Trump's hair is also a phenomenon, and Halloween is all about being meta this year. All you need: a toupee, or failing that, a very well-behaved guinea pig.
7. Rick Owens spring 2016 models
This was the year of #squadgoals. And yes, you and your friends could go as Taylor Swift, Gigi Hadid and the rest of the Bad Blood crew but why be so, like, obvious, when you could show how tight you and your BFF really are by going a deux as Rick Owens's human backpacks? The Paris fashion week show – a celebration of female solidarity, according to the designer – can be easily reproduced with some nude underwear and those straps you use to keep luggage on a car roof rack. One for the fashion hardcore.
8. Iris Apfel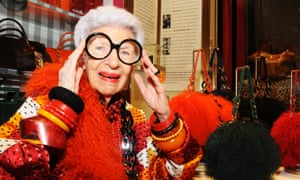 Karl Lagerfeld (82) is so over. The only snowy-haired fashion elder to dress as this year is 94-year-old Iris Apfel, star of her very own fashion documentary, Iris. Ingredients: outsize, owlish black specs; red lipstick, a really, really jazzy coat and as many boulder-sized bauble necklaces and clanking plastic bangles as you can pile on.
9. A sexy witch
Taking Halloween classics (witch/witch's cat/devil) and making them into slutty costumes (stockings and suspenders/red corsets) was a thing until it became so over that even witless frat party kids started dressing as Katy Perry's Left Shark instead. In fact, the sexy-witch costume is so completely over that it is a thing again, if done in an eye-rolling, "I've come as the bestselling Amazon sexy witch costume", kind of a way. Wow, modern life is complicated, innit.
10. Taylor Swift and Calvin Harris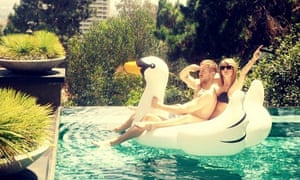 This year's slay-em smug-married image: Taylor Swift and Calvin Harris announcing their relationship, by way of a giant swan on Instagram. The swimwear looks a bit chilly for the end of October, so maybe add a hoodie, but basically all you need is an inflatable swan and a pair of Ray-Bans. It's Bianca Jagger on a white horse for a new party generation.
11. Jeremy 'Fracas' Clarkson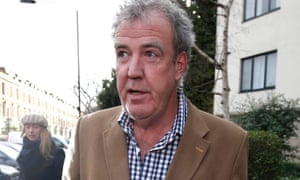 Clarkson's allegedly hunger-induced outburst in March is one of this year's top panto-baddy moments. Relive the glory with a large-check shirt, a quilted jacket, and by raiding the buffet table with gusto on arrival. Do not, however, actually punch anyone.
12. Margot Tenenbaum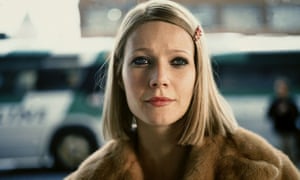 Fourteen years after we saw and loved The Royal Tenenbaums, Margot is having a fashion moment with her quirky geek-chic look setting the pace on the catwalkonce again. All you need for Margot's look: a fur coat (manky is fine); a Fred Perry tennis dress; a red plastic hair clip in a severe side parting. (Margot also has a Birkin, but if you have a Birkin, you are best off keeping it in a safe, or at least an air-conditioned padded cupboard, rather than taking it to Halloween parties.)
13. Kim Kardashian's Paper magazine cover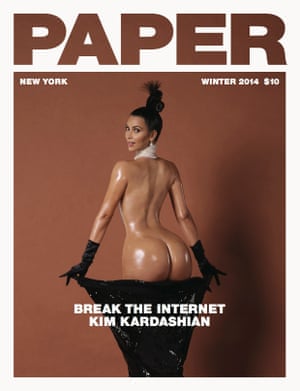 It is nearly a year since Kim broke the internet. I said nearly a year: the winter issue of Paper magazine came out in November last year, which means that this is the first Halloween since those photos. Funnily enough, it was the naked ones that got the most play – but for Halloween purposes, we suggest a black sequin gown, a pearl necklace, and perhaps a strategic sofa-cushion. Bring a bottle of prosecco and open on-camera. Voilà!.